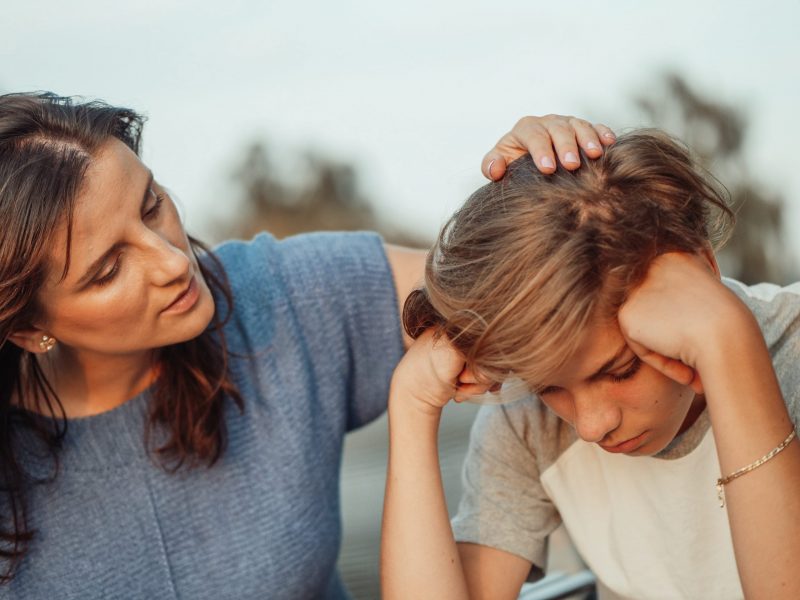 November 28, 2022
For several years now, experts have been warning that it is necessary to talk about suicide. However, for a wide sector of society it remains a taboo.
At school, there is a fear of dealing with the issue, even though it is the second leading cause of death among teenagers and young people aged 15 to 24. In 2020, 757 people died in this age range and 2,342 among the entire population. But there is an under-reporting of both self-inflicted deaths and suicide attempts.
"It is necessary to report on the subject, but not as something inexplicable or simplistic. Suicide is never the result of a single factor or event. It is usually caused by a complex interaction of many factors. But it is preventable", warns Alejandra Rossi, psychologist expert in suicide and former director of the Suicide Prevention Program in Córdoba.
Increase in adolescent suicide
A survey carried out by Unicef ​​in Argentina determined that in recent decades there has been an increase in suicide rates among adolescents aged 15 to 19. The phenomenon is more frequent among men and among those with a lower educational level. And the work calls for prevention and care policies to be focused on small towns where the impact of self-inflicted deaths is stronger.
Rossi points to the effect of the pandemic on the psyche of teenagers. "He changed his lifestyle with very long periods of closure, only in contact via the Internet and living as a family in an unfavorable climate", he explains.
Unicef's work identified some factors behind teenage suicidal behaviour:
Absence or weakness of another person and/or institution that should serve as emotional support.
Difficulties in going through the "tests" to become a young person or an adult, such as educational, work and emotional achievements.
Problematic consumption of psychoactive substances.
Lack of links outside of the familiar.
School harassment or bullying.
While there are other factors that work as triggers. Among these: the loss of family support; a breakup; gap between educational expectations and achievements or gender-generic; an act of violence and/or sexual abuse.
Dispelling myths about suicide
There are some myths about suicide that should be dispelled already. "Myths are typical of the taboo on suicide and are an attempt against prevention. This problem should have the same status as we give to violence, STIs and cancer", adds Rossi.
Talking about suicide does NOT encourage the person to do it. "If one talks about the subject responsibly, the person who is thinking about it can find help to be able to express what they feel, which in another context they would not be able to do," says the expert.
The person who wants to commit suicide DOES give signs. The expert warns that the person who commits suicide gives many signs. The problem is that like-minded people are not ready to read them because the topic is not discussed. "Suicide is preventable and predictable", he says.
Depressive people don't ONLY kill themselves. Suicide rates are higher among people with depression. But it is not the only risk factor.
Suicide is NOT inherited. It is a behavior with which some people believe they can get out of a crisis. It's not in the genes, but there can be an identification with the idea that death is a way out, both for the suicide's relatives and schoolmates. That is why the suicide should not be presented as a coward, but also not as a martyr or a hero.
Signs that indicate possible suicidal ideation
There are verbal signs that can anticipate a possible suicide. People who have the idea rolling around in their heads usually say phrases like: "I'm not worth anything"; "This life has no meaning"; "You would be better off without me"; "I'm a burden for everyone."
Also expressions of hopelessness such as: "My problem has no solution"; "I want to end everything"; "Things will never get better."
Other expressions explicitly allude to an ongoing suicidal ideation: "I would like to disappear"; "I want to rest"; "I do not wish to continue living"; "I want to take my life but I don't know how"; "Nobody wants me and it's better to die." Other expressions reveal a plan with the method you would use, the place, the day, and the time.
There are also behaviors that may indicate suicidal ideation:
Significant increase in irritability.
Perception that the person has a low ability to solve problems.
Disinterest or lack of motivation, even for activities that interest you as a hobby.
Disconsolate crying, without screams and without the cathartic effect.
Changes in sleep habits.
Unusual disregard for personal appearance.
Significant weight loss.
Sudden calmness, characteristic of a decision already made.
They usually settle pending matters (pay off debts, etc.) or give away much-loved belongings.
The importance of postvention in suicide
"The person who commits suicide is reporting that he is not comfortable living in his society. The states must attend to this problem comprehensively and with a scientific perspective", explains Rossi. Not only is it possible to have a suicide assistance mechanism, but it is also necessary to work on prevention and follow-up.
Postvention refers to the support needed by the person attempting suicide and the family and friends of the person who has committed suicide. It includes the activities developed with the "survivors", to facilitate their recovery in relation to the loss suffered and to prevent other suicidal behaviors in family members.
Because it's not the same grief. In addition to sadness, there are feelings of disbelief, rejection, abandonment and the questioning of why.
Rossi asks to focus on the school environment when a suicide happens. "We must speak with the truth, there is no need to speculate on the cause of suicide because it is almost never known and can serve as a trigger for the identification from which the cases are replicated. There is no need to silence the problem. And it is necessary to let the colleagues express themselves about the facts", he explains.
By Lucas Viano @LucasViano
EDITORIAL THINK HEALTHY
redaccion@pensarsalud.com.ar Write to us!
Tags: teenagers | suicide prevention | mental health | adolescent mental health | signs of suicide | suicide | teen suicide
Related Notes