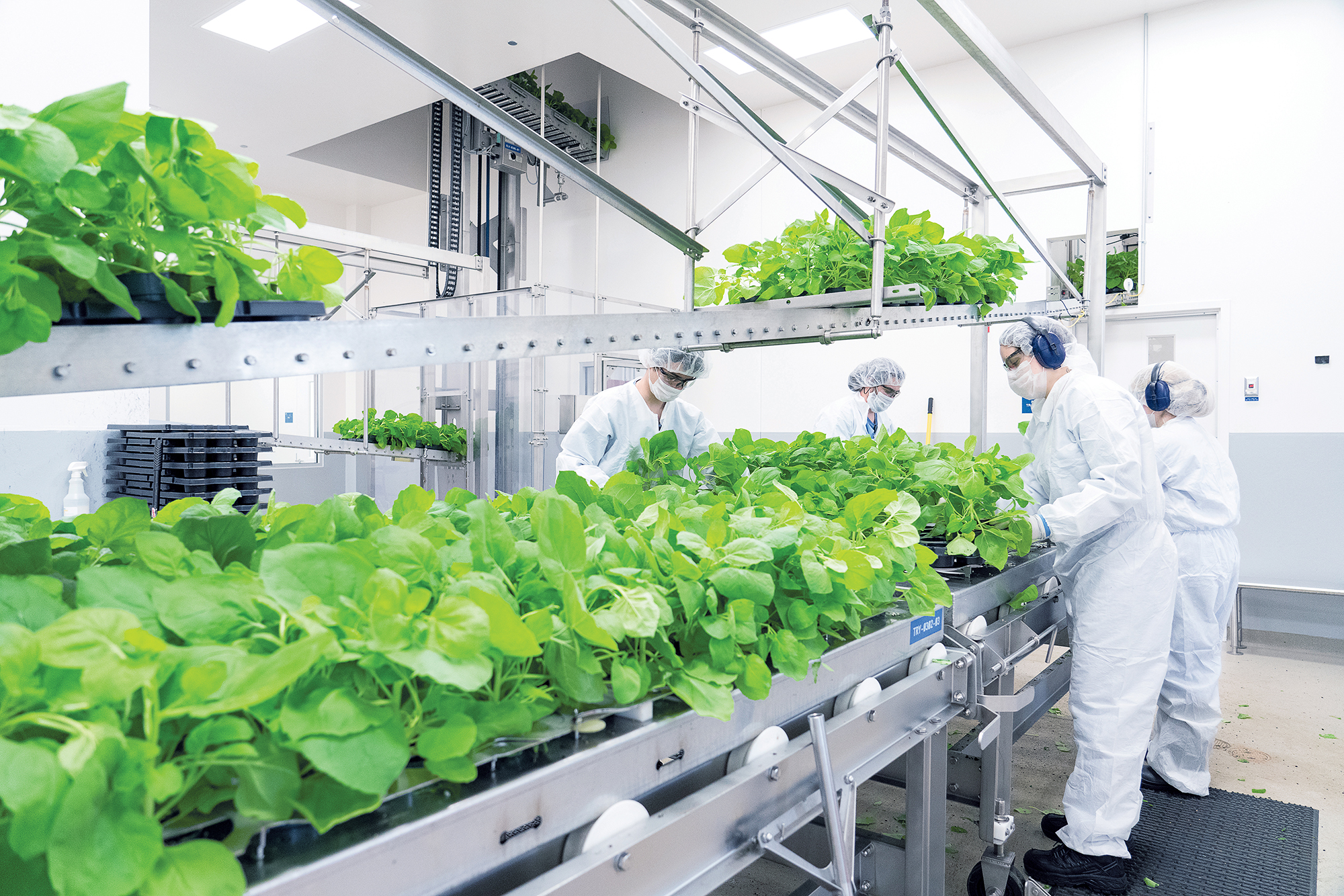 March 14, 2022
While there are already more than 20 Covid-19 vaccines in use worldwide, dozens more are still being developed. One is that of Medicago, a Canadian firm that partnered with the multinational Glaxo-Smith-Kline (GSK) to test a plant vaccine.
One arm of the phase 3 trials is being conducted in Argentina at hospitals in Buenos Aires, Córdoba, Santa Fe and Tucumán.
"The recruitment has already ended and all the volunteers received both doses. There are no preliminary results yet, but we are already reaching the number of volunteers sick with Covid-19 that are needed to determine effectiveness. This task is the responsibility of the manufacturing company", says Diego Wappner, specialist in internal medicine and clinical and pharmacovigilance coordinator of the study in Argentina.
The platform presents some differences with respect to the formulas that are already being applied.
What makes it a vegetable?
To date, vaccines against Covid-19 have used messenger RNA (Pfizer and Moderna), viral vectors (AstraZeneca, Sputnik V, Cansino and Johnson & Johnson) and inactivated virus (Sinopharm and Sinovac) technologies.
Medicago-GSK uses virus-like particles (VLPs). The human papillomavirus vaccine uses this technology and so does the development of Novavax against Covid-19.
The difference is that Medicago uses a plant, Benthamian nicotineto produce this vaccine raw material at scale.
To do this, they first create a solution with bacteria into which parts of the Sars-Cov-2 genes were inserted to create the VLPs. The plants are immersed in this solution which is infiltrated with the help of a vacuum.
Plants operate as VLP factories for 4 to 6 days. They are finally harvested to extract and purify the VLPs that will go into the final vaccine formulation.
Advantages of plant vaccine
There is no genetic modification of the plant, but natural processes are used to produce VLP. This brings some advantages:
quickness. Ability to administer doses of research grade vaccines in 19 days and clinical grade in 6 to 8 weeks. Vaccines produced in chicken eggs can take months.
accuracy. The VLPs match the true pathogen very accurately. "It is a vaccine that can easily match its production with the strains circulating at the moment. It can be redesigned with great precision for the different variants that emerge", says Wappner.
scalable "It is a highly scalable vaccine. The same growth conditions are required for one or 10,000 plants, without complex processes as with other production platforms", explains the doctor.
accessible. "To be highly scalable, it is very likely that the cost will be lower, although it will depend on the value that the manufacturers decide to apply", adds the doctor.
At the same time, this vaccine can have some advantages for those who receive it:
No genetic material. People do not receive genetic material, so there is not even a remote possibility of viral replication in our body or infection.
veganism. According to the doctor, the fact that the vaccine is produced from plants is also an advantage for many young people who have a vegan culture.
The plant vaccine is safe
"Phase 2 also showed that it is a safe vaccine. And in phase 3 we observe the same thing. It has a high tolerance, with few local and systemic adverse events," says Wappner.
Among the adverse effects, the most common were pain at the application site and fatigue, but they were self-limiting within 48 hours of the injection.
Phase 2 promising
According to Wappner, the Phase 2 results are very encouraging. "The hypothesis is that it will be a superior formula to current vaccines, at least in terms of antibody production," he says.
In these trials, the Medicago-GSK vaccine achieved neutralizing antibody titers against Sars-Cov-2 that were 10 times higher than those generated by patients who recovered from Covid-19.
Wappner adds that the antibody concentrations were 50 to 75 times higher than the AstraZeneca and Sputnik V formulas.
"We are talking about a highly immunogenic vaccine, like the RNA ones. The alliance between Medicago and GSK is important because the adjuvant generates greater immunity in the initial stages, of the innate type", he explains.
The study also determined that 96% of adults and 86% of older adults developed long-term functioning cellular immunity.
GSK adjuvant
Vaccines are a formulation between an active principle that generates the immune response (the VLPs in this case) and a set of other substances. Among them there may be an adjuvant.
The pharmaceutical giant GSK provides this substance which aims to improve the immune response to make it more powerful and lasting than if only the active principle was inoculated.
The substance also makes it possible to reduce the administered dose in order to increase vaccine production, a crucial measure in a pandemic emergency.
In addition to Medicago, GSK signed agreements with other companies that manufacture vaccines against Covid-19 that will use this adjuvant.
In the last flu pandemic this substance helped boost vaccine production. However, some studies detected that this vaccine (Pandemrix) was associated with narcolepsy.
By Lucas Viano @LucasViano
EDITORIAL THINK HEALTHY
redaccion@pensarsalud.com.ar
Tags: covid and technology | covid and treatments-vaccines | vaccine | Medicago vaccine | vegetable vaccine | vaccines | vaccines against Covid-19 | vegan vaccines | vegans
Related Notes