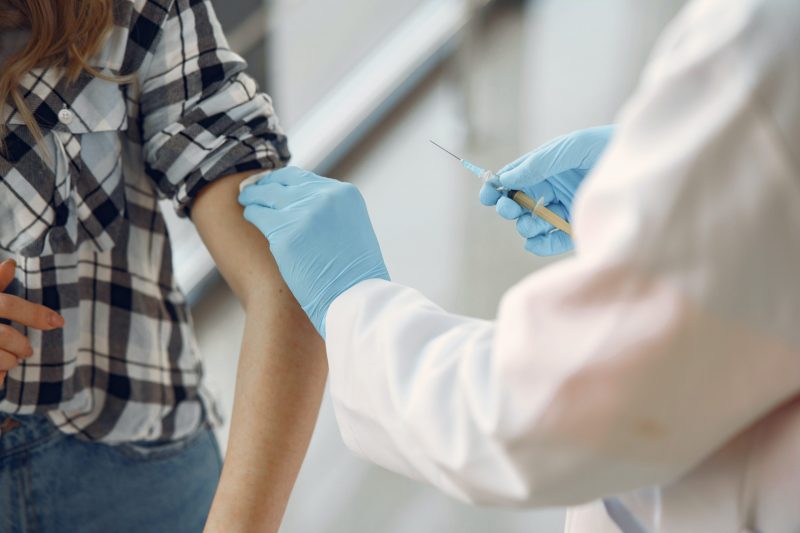 August 25, 2022
Faced with the significant increase in cases worldwide, the good news is that there are vaccines against monkeypox. However, the World Health Organization (WHO) has warned that the effectiveness is not 100% and that it is necessary to turn to others to stop the monkeypox pandemic. All eyes are on the new simianpox vaccine today.
There is a 2019 reformulated vaccine against classic smallpox that is effective against the current variant of the disease, although global production is limited. The vaccine, called "Jynneos", is only produced in a plant north of Copenhagen of the Danish laboratory Bavaria Nordic. The company already warned that it does not have the capacity to respond to the increase in global demand.
Since the English physician Edward Jenner proved in 1876 that inoculation with pus from people infected with the smallpox virus prevented smallpox in humans, various methods were tried to immunize children and adults against the disease that killed millions in Europe
The viral vaccine made it possible to eliminate smallpox from the face of the world. That is why it was decided, in the 70s of the last century, that it was no longer necessary to continue vaccinating children. Only specimens of the virus were kept in the United States and Russia, and several thousand vaccines have since been developed each year for defense purposes against bioterrorism. But the smallpox reappeared, with a more benign face.
Similar symptoms, but new forms of transmission
The simian pox virus is a Orthopoxvirus which causes a disease with symptoms similar to, but less severe than, those of traditional smallpox.
Although classical smallpox was eradicated in 1980, monkeypox has continued to circulate in countries in central and western Africa. The outbreak that was declared in Europe last May has already sickened about 40,000 people and caused more than a dozen deaths, according to the WHO. And it has already spread to more than 100 countries.
Simic pox presents with the following symptoms:
Fever: lasts between 1 and 3 days
Headache
Muscle pains
tiredness
Skin rash: lasts 2 to 4 weeks. The lesions evolve from macules (lesions with a flat base) to papules (firm, painful raised lesions), to vesicles (filled with clear fluid) and pustules (filled with pus), followed by crusts.
Swollen lymph nodes
New forms of transmission have been detected, not only by physical contact but also at a distance in the open air, at recitals where people dance nearby and can emit airborne droplets. It has even been verified the contagion of a man to a domestic dog, an Italian greyhound who lives with his pair of owners in Paris, according to The Lancet magazine published recently. Hence the importance of people recognizing the symptoms and isolating themselves until the skin scabs fall off.
Several generations of vaccines up to Jynneos
The most effective way of prevention is vaccination. The good news is that those vaccinated against classic smallpox many years ago are today, even partially, protected against monkeypox. The rest will have to be vaccinated or take care measures to reduce the risk of contagion.
In addition to experimental smallpox vaccines, there are now new generation vaccines approved by the US Food and Drug Administration (FDA) and also by European regulatory authorities for monkeypox.
Until recently, a second-generation vaccine based on the attenuated vaccinia virus, called "ACAM2000", was mostly used. It carried some risk of severe adverse effects, but was used for military personnel and laboratory professionals in contact with suspect samples. In 2019, a new vaccine was developed using an inactivated virus from the Ankara strain, called "Jynneos". It is the one that is administered today in two injectable doses. This vaccine is approved for people over 18 years of age and can be used in children within specific protocols.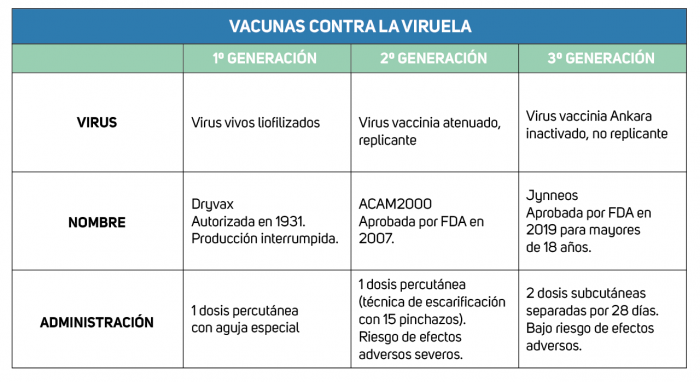 Although the WHO does not yet recommend mass vaccination with the new vaccine, there are some places in the United States and Europe where it is already systematically offered to men who have sex with men, since they are the group where the 94% of cases currently.
Shortage of vaccines in the face of global demand
The vaccine is recommended as a preventive measure and also as a post-exposure prophylaxis, up to 4 days after having had contact with a sick person. The vaccine reaches its maximum effectiveness 14 days after the second dose, but its effectiveness would not be greater than 85%.
In fact, infections are already being observed breakthrough among people who were vaccinated with Jynneos. "From the beginning we knew that this smallpox vaccine would not be a silver bullet, that it would not meet all expectations, and we did not know its effectiveness in the current context," acknowledged Rosamund Lewis, WHO expert , in a press conference. But it is what it is.
Until now, the Bavarian Nordic laboratory had the capacity to produce 30 million doses annually. Although it has already reported that it will raise its production capacity to 60 million doses, its executives warned that they will not be able to meet global demand. Consequently, the Danish laboratory is in negotiations with an American to also prepare the vaccine from scratch.
Change the form of administration
For their part, the American health authorities decided last August 9 to change the way the Jynneos vaccine is administered. In order to obtain 5 doses from each, the administration changed from applying subcutaneously to intradermally. In addition, the interval between the first and the second dose is separated.
There is no data yet on whether the lower dose will be equally effective in triggering antibody production and preventing severe forms of simian pox. However, laboratory studies show that the antibody response would not be lower. Even a fifth of the initially recommended dose is safe.
The European Union will also offer a fifth of the dose of the smallpox vaccine, which is called Imvanex, in intradermal form.
"The Jynneos vaccine can be used in immunocompromised people, including HIV patients, but we have no data yet on its use in pregnant women," reported Boghuma Kabisen Titanji, assistant professor of medicine in the Division of Infectious Diseases at the University of 'Emory, in the United States. The specialist also explained that the new intradermal administration – in the superficial layers of the skin – will probably have a similar effectiveness to the full subcutaneous dose. It is because the skin is full of immune cells capable of amplifying the defenses against the simian pox virus.
Distribution of the vaccine in the United States and Europe
In the United States, where more than 14,000 cases have been detected among adults and children, about 650,000 doses of the vaccine have already been distributed, out of the total of 1.1 million that were delivered by the Danish laboratory. With the new form of intradermal administration, the 400,000 doses that have not yet been distributed could soon become 2 million. The European Union acquired 50,000 doses of Jynneos. For its part, Germany bought 40,000 doses; Great Britain, 54,000, and Israel, 5,500, as revealed by the Bloomberg news agency.
In Argentina, where more than 70 cases have already been diagnosed, all in men, there is still no indication for vaccination for any risk group. In fact, the Jynneos vaccine is only available in European countries and North America, at the moment, although PAHO is in negotiations to obtain it for Latin America.
Control and reduce risk
"It is important to stress that monkeypox can be controlled even without vaccines," said David Heymann, Professor of Infectious Disease Epidemiology at the London School of Hygiene & Tropical Diseases.
Heymann has been studying monkeypox in Africa for decades and says that human behavior will be more important than any other measures in slowing the spread of the current epidemic. In fact, London's gay community seems to have taken note of the risk, and cases began to decline.
The recommendations of the Center for Disease Control (CDC) of the United States to reduce the risk of contagion are:
Self-isolation against symptoms (rash, blisters, fever).
Limitation of sexual contacts.
Avoid touching your own and other people's skin lesions. Do not scratch.
Wash hands, sexual objects and bedding after sex.
Reduce participation in mass gatherings and festivals where close contact and kissing occur.
Use condoms and gloves that cover the skin during sexual activity.
Do not touch pets if they have symptoms.
Do not shave if you have skin lesions (until the scabs fall off).
Wear masks in social situations if you are sick.
Consult a doctor at the first symptoms.
By Alejandra Folgarait @alefolgarait
EDITORIAL THINK HEALTHY
redaccion@pensarsalud.com.ar Write to us!
Tags: ACAM2000 | combination of vaccines | covax | Edward Jenner | equity | vaccine shortage | Imvanex | immunity | OPS | Orthopoxvirus | Jynneos vaccine | smallpox vaccine | vaccines | monkey pox | simian pox
Related Notes