The smell of clean clothes is loved all over the world. Who does not like a fresh fragrance with a feeling of cleanliness and softness? The clean smell of freshly laid sheets, or of a towel when you get out of the shower, or when you put on a shirt or sweatshirt. That characteristic smell that produces comfort and well-being.
Well, here are some tricks to prolong the smell of clean clothes from your laundry:
Wash clothes often: Do not leave dirty clothes for a long time without washing them, as this can cause bad smells in the clothes. Use a disinfecting wipe or professional deodorizer before measuring in the washing machine.
Use a good detergent: Choose a high-quality detergent with an aroma that you like. Detergents with enzymes are particularly effective at removing bad odors.
Add a cup of cleaning vinegar to the rinse cycle: Vinegar is a natural deodorant that will help remove odors and soften clothes. Don't worry, you won't leave a vinegar smell on your clothes.
Use a ball of wool: Balls of wool help soften clothes and reduce static electricity. If you add a few drops of essential oils to the ball of wool before throwing it in the dryer, your clothes will have a pleasant and long-lasting aroma.
Wash clothes in hot water: If the label of the clothes allows it, use hot water to wash them. Hot water helps eliminate bad odors and kill the bacteria that can cause them.
Use fabric softener: Use a good quality fabric softener to soften clothes and give them a pleasant aroma.
Do not leave wet clothes in the washing machine: If you leave wet clothes in the washing machine for too long, a damp smell can develop. Try to hang the clothes as soon as possible to prevent this from happening.
Dry it well: It is important to dry your clothes completely before storing them. If the clothes get wet, they can generate bad smells and mold.
How to prolong the aroma in your laundry?
The fabric softener is the special ingredient to get that smell of rum just taken out of the washing machine. That is why it is important to make proper use of fabric softener to achieve this> that makes your clothes always fit well.
For it, you need to use the right amount of fabric softener according to the manufacturer's instructions. If you use too much fabric softener, the clothes can become greasy, which affects the duration of the aroma.
Use professional fabric softener: Using a professional fabric softener made with high-quality ingredients will help the fabric softener's scent last longer in the wash. Good quality fabric softeners contain ingredients that help prolong the fragrance in the clothes.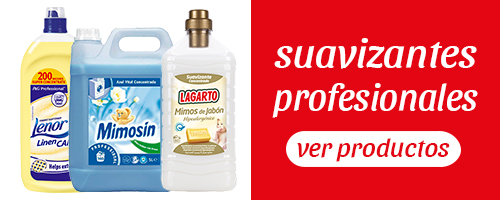 If you dry your clothes in the dryer, avoid excessive heat. Do not expose the clothes to too high temperatures, as this can evaporate the aroma of the fabric softener. Dry clothes at a moderate temperature and do not leave them in the dryer for too long.
If you hang your clothes, take into account the high summer temperatures. It is preferable to tend to the times with moderate temperatures and to recognize the clothes when the temperatures reach their daily maximums. You will prevent the clothes from being stiff and rough to the touch and without the fabric softener smell you are looking for.
We hope these tips have helped you keep your clothes smelling clean for longer.