As we know, now more than ever it is necessary to be aware of climate change and the pollution that is occurring on our planet due to business activities, lifestyle, etc. which includes in this sense the consumables for cleaning and daily use that we have in homes and companies. Use specifically biodegradable and ecological garbage bags considerably reduce the negative impact on the medium.
Our ecological bags are compostable. Once its useful life is over, it becomes a composite material and does not produce any impact on the earth, water or other media.
TYPES OF BIODEGRADABLE GARBAGE BAGS:
Biodegradable garbage bags for small 10L bucket: size 43×48 cm are perfect for sanitary cubicles in kitchens and bathrooms for example.
Biodegradable garbage bags for medium 35L buckets: 60x75cm are ideal for medium domestic buckets up to 35 liters capacity.
Biodegradable garbage bags for large 120L buckets: special for communities and collectivities that want to maintain all common and private areas in the most efficient way possible. They measure 90×110 cm and are very resistant.
Buy biodegradable trash bags now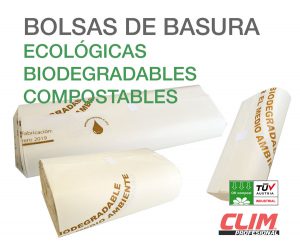 In addition, it is ecological trash bags have the OK compost certificate that guarantees compostable material for industrial use.
Many say that the damage in the middle is already too much and it is too late to fix it, but we have products, materials and ways to help reduce the negative effects. We have to do it!
Discover our section of ecological cleaning products where you will find floor scrubbers, glass cleaners, mops, unclog removers, degreasers and many more products that help keep your office or home clean and keep the environment clean.
Shop now in our online store for cleaning products!